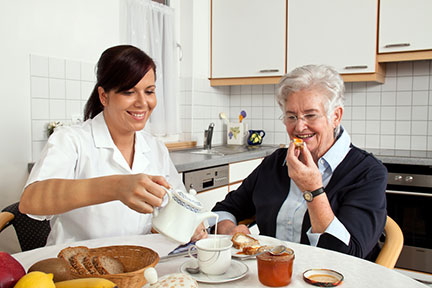 As they age, many seniors prefer to stay at home rather than move to a senior living community. Others cannot afford to move, even if they wanted to, and are forced to stay home and provide care for themselves or rely on friends and family.
You may not know that Medicaid will pay for home care, if you qualify medically and financially. In some states, even a family member can be paid by Medicaid to provide care. Family members or friends interested in becoming a paid caregiver to you or someone they know can follow this guide to learn more about the process and their options, even if they have limited or no formal experience.
There are two factors that determine eligibility for Medicaid home care; medical need and financial need. For the medical need factor, an evaluation will be made to determine whether or not the applicant is in need of the services they're requesting. An individual who is no longer able to complete daily tasks such as personal care or cooking is considered to be in need of in-home care.
For financial eligibility, the requirements vary greatly by state; however, in order to qualify in any state, most individuals will need to have few assets and low income. The state of New York, for example, requires that an individual applicant have less than $14,850 in liquid assets and an income of less than $845 per month in order to qualify. This asset limit is relatively high compared to the asset limit in CT, which is only $1,600. The income limit in CT is significantly higher, at $2,199.
You may need to consult a Medicaid planning expert (Google for a list in your area) to help you navigate through your state's requirements.
Some of the services Medicaid will pay for include the following:
In-home health care
Basic cleaning and laundry tasks
Simple meal preparation or delivery
Transportation to and from medical appointments
Personal care services, including dressing and bathing
Minor modifications, like adding a wheelchair ramp or widening a doorway
Durable medical equipment
It is important to note that in-home care is not for everyone and is not always the best option for those that require the level of care one typically receives at a nursing home or assisted living community.