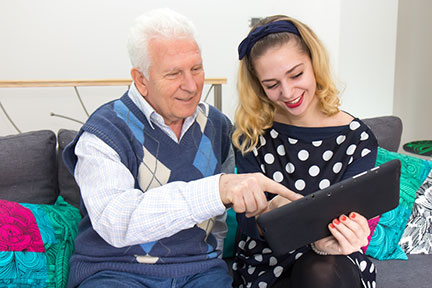 If you're a senior interested in remaining in your home longer and aging in place, or the adult child of a senior who would like to know more information about your parents' well being without having to telephone constantly, you will be interested in this rundown of new home technologies. 
If you work in the tech industry, it's easy to forget that older people exist. Most tech workers are really young, so it's easy to see why most technology is designed for young people. But consider this: By 2030, around 19% of people in the US will be over 65. 
Family caregiving is potentially a huge market, untapped primarily because it is unseen. It is also a complex market, and solutions to date have met with limited success, often due to a shallow understanding of user needs. But the needs are real and widespread, and enticing to bold, innovative entrepreneurs.
Worried that mom isn't taking her medicine or that dad might wander out of the house at night? Want to sharpen their driving skills—or yours? There's help for the sandwich generation facing these concerns: the continual roll-out of high-tech products designed to let aging parents live safely on their own.
If you're hoping to provide home care for a sick or elderly family member, startup CareZapp is building a technology platform to help.
The claim from makers of the next generation of senior monitoring devices is that they will enable seniors to stay in their homes longer, living independently and feeling safer, knowing that they are being watched over, if only initially by a machine. Is this the technology system we've been awaiting?