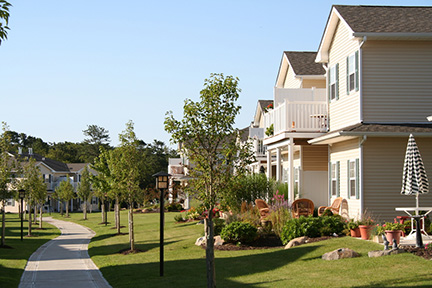 All across the country, from small towns to bustling cities, senior living communities are being built at a record pace. And it's no wonder, with 11,000 Americans reaching their seniority (65) every day, there is a quickly accelerating need to create housing. Here's a quick roundup for this week. And check our directory for more listings.
Shakopee, MN
Downtown Shakopee, Minnesota may soon have a 55-unit senior housing development near St. Mary's Church. The Henderson will rise three stories, with indoor parking for residents and street parking for visitors.
There will be apartments for both independent and assisted living, and the developers are working to ensure that The Henderson has a quality residential feel and fits seamlessly into the Old Shakopee neighborhood.
Albuquerque, NM
Albuquerque's Paseo del Norte corridor is getting a new $10 million assisted living community in the Paseo del Norte corridor of Albuquerque.
The MorningStar community will have 70 apartments, including memory care, within a two-story building. Amenities include a dining area, bistro, theater and salon.
Garden Grove, CA
Brookdale Senior Living, the nation's largest Senior Living Provider. has taken over management of 80 assisted living units at the new Brookdale Valley View location.
Christiansburg, VA
CareTrust REIT, Inc. has acquired English Meadows at Christiansburg, a 39-unit assisted living community in Christiansburg. CareTrust is also involved with English Meadows Elks' Home, a 169-unit independent and assisted living campus located in Bedford, Virginia.
Copperas Cove, TX
A 120-unit senior housing community, consisting of 20 single-story six-plex units, has been proposed for Copperas Cove. Targeted residents include retired military, school teachers, police officers and others on fixed incomes. This is a way for seniors to afford quality homes and necessities such as food, clothing and medicine and not have to choose between higher housing costs and those necessities.