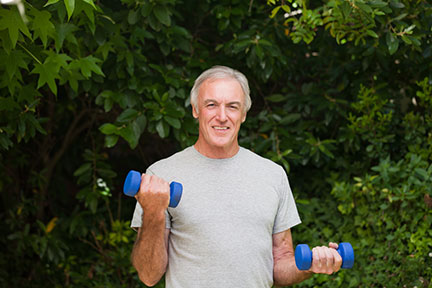 For those of us who welcome any new insights into how to fight the scourge of time, a new study from the University of British Columbia discovered that resistance training may at least slow brain aging.
In a study published in the Journal of the American Geriatrics Society, researchers analyzed 155 women ages 65 to 75. In the group, 54 subjects showed through MRI scans some evidence of a type of brain lesion, a common indicator of aging.
The team followed the women for a year while they started to do three types of exercise program: lifting weights once every week, lifting weights twice weekly, and stretching and balance training (only as a control).
The researchers made another scan of the women's brains at the end of the year. The control group was found to exhibit progression of brain lesions in both number and size. However, slowed progression of the lesions was discovered in those who lifted weights twice weekly.
"[W]e didn't expect resistance training to have these types of effects," said study author Teresa Liu-Ambrose, UBC physical therapy professor and the laboratory's director.
Strength training is not limited to only lifting weights, but can include these exercises:
push-ups
leg squats
resistance tubing
free weight exercises
resistance machine workouts